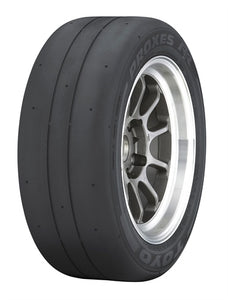 The Proxes RR is a DOT competition tire designed for dry tracks. With consistent lap times and predictable handling, it is ideal for NASA and SCCA road racing, track days and high-performance driving schools. The symmetric 2-groove tread design and special tread compound provide a maximum contact patch and ultimate dry traction with superior cornering force.
It comes off the shelf in race-ready condition with a 4/32nds depth tread – no shaving required.
*Warning: For racing purposes only. Not for highway use.