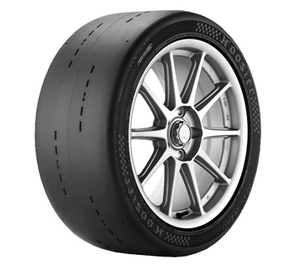 Hoosier A7: Hoosier Racing Tire A7 radial are very similar to the all new R7 model. The A7 is designed to be used in cooler temperatures, as the optimal operating temperature of the A7 is lower than and reached sooner than the R7.  The A7 is also a great choice for use on autocross circuits where the track is shorter and you have very little time to get your tires up to optimal operating temperatures.  The A7 is not designed for high temperature environments, which will lead to accelerated wear on the tire and dramatically shorten the life span of the A7 tire.
WARNING: D.O.T. labeled Hoosier Racing Tires meet Department of Transportation requirements for marking and performance only and are NOT INTENDED FOR HIGHWAY USE. It is unsafe to operate any Hoosier Racing Tire, including D.O.T. tires, on public roads. The prohibited use of Hoosier Racing Tires on public roadways may result in loss of traction, unexpected loss of vehicle control, or sudden loss of tire pressure, resulting in a vehicle crash and possible injury or death.
And like all Dry Racetrack & Autocross Only tires, A7s are not intended to be driven in near-freezing temperatures, through snow or on ice. It's also essential these tires be stored indoors at temperatures maintained above 32 degrees F.